It is not a trend, it is our constant commitmen.
HISA guarantees the best quality to their customers paying attention to the controls that are carried out during the production processes.
Through the business development of HISA, the quality has been always implied in all our products and services. Our constant aim has been to do things right from the beginning. The raw materials that we receive pass our laboratory control check, verifying the physical and chemical characteristics and concluding it with Quality Control Testing of all our manufactured products.
As a result of our concern about quality, HISA staff is continuously trained in order to ensure the compliance of our quality system in all respects and departments.
HISA researches increasingly towards preserving the environment, that is the reason why its products are always developed taking into account the environmental performance, without forgetting the outputs that it must provide.
HISA, in its company policy, includes a loyal commitment with the conservation of the environment. For this purpose, all the facilities and productive processes are under a plan of minimisation of the generated emissions and waste, managed by the current legislation, which ensures the energy saving and environmental conservation.
Corporate Social Responsability (CSR)
Our premise is and has always been frequent client communication via new technologies as email, social network, telephones. All these measures together ensure that we always respond flexibly and dynamic to their request.
Our relationship with our corporatewear suppliers is based on mutual trust, focus on the environmental protection and the security of our staff. 
Our social responsability action is aimed to incorporate women on the labour market. Proof of this can be seen in the fact that almost the  50% of our employees are women. 
Regulations and Certificates
QUALITY AND ENVIRONMENT 
Our desing and production of detergents and cleanings products, are carried on within an ISO 9001 and ISO 14001 certified quality and environmental management systems.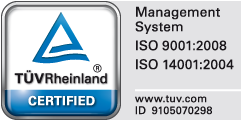 REACH AND ECOEMBES
We comply with REACH, an EU Regulation for Registration, Evaluation, Authorisation and restriction of Chemicals products, which has been taken in order to protect human health and the environment.
We are also a member of ECOEMBES, an Integrated Waste Management System and ecodesign of packaging.
Information:
Ctra. Azucarera-Intelhorce, 84. Polígono Industrial Guadalhorce, 29004 Málaga (España)
+34 952 238 863 | +34 952 176 050
hisa@hisasl.es